WEB SPECIALS
REVIEW
The 12th Biennale de Lyon: "Meanwhile… Suddenly, And Then"
words by Matt Packer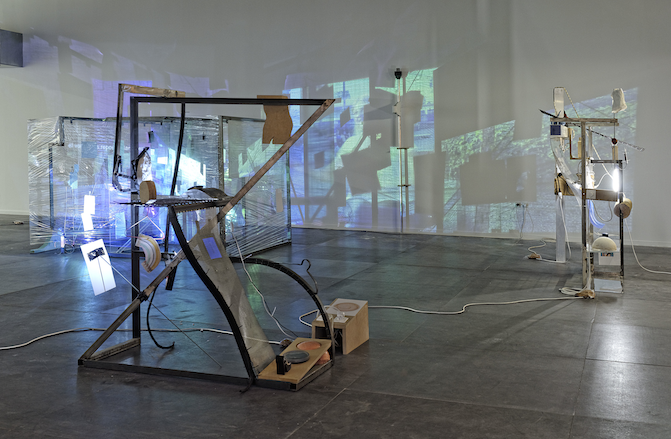 The 12th Lyon Biennale marked the third and final curatorial response to Transmission, a thematic keyword put forward by the Biennale's artistic director Thierry Raspail as a springboard and point of dialogue between himself and the invited curators of the 2009–2013 editions. In delivering his proposal for this year's biennial, curator Gunner B. Kvaran must have been conscious that the curators of the two previous editions had taken this theme of transmission in two very different directions. Hou Hanru's "The Spectacle of the Everyday" in 2009, and Victoria Noorthoorn's "A Terrible Beauty is Born"in 2011, borrowed references to Guy Debord and William Butler Yeats respectively in their titles as an indication of their diverse critical horizons.
Kvaran's foregrounding ideas of artistic narrativity and storytelling is a direct and less propositional response than those of Biennale's previous curators. With its universalizing claims for narrative ("The world is made of stories," announces the title of the exhibition's November colloquium) and with a name that reads like a series of title cards from the days of silent cinema, this year's edition seemed less focused on addressing any new critical urgencies. Instead, Kvaran's exhibition emphasizes the works and practices of contemporary artists that diversify the narrative form in their use of materials and new technologies. This idea acquired some of its vitality from Alain Robbe-Grillet's iconoclastic approaches to the form of the novel in "constructing the man and humanity for tomorrow," (as Kvaran quotes from Robbe-Grillet in his catalogue essay) and more vaguely positioned itself as a counter-response to the predominant narratives described in the press release "as practiced in Hollywood, on television, or in the best-sellers of world literature."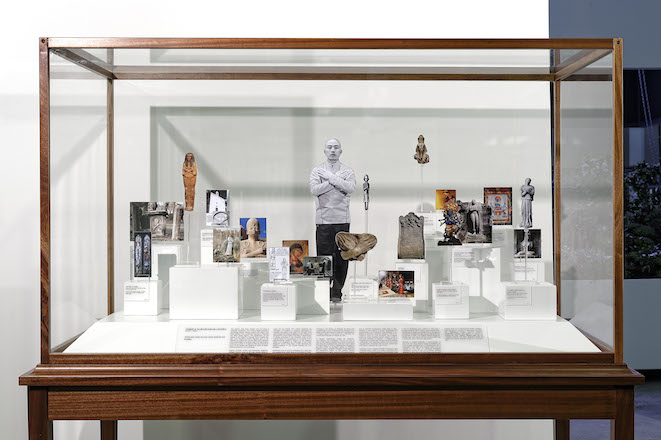 "Meanwhile… Suddenly, And Then" is organized across three main venues (La Sucrière, the Museum of Contemporary Art and the Bullukian Foundation) that have been mainstays of the Biennale for many years, with singular presentations by Tom Sachs andZhang Ding installed in remote venues in the Fourvière district of Lyon. It is only in encountering these remote works that the city reveals itself beyond the white walls and shopping centre appendages that define the main venues. Tom Sachs' Barbie Slave Ship installation (2013) in the Saint-Just Church, and Zhang Ding's two works nearby—Control Club (2013) and Buddha Jumps over the Wall (2012)—installed in The Chaufferie de l'Antiquaille, a former boiler plant, are welcome reminders of what a biennial can do to implicate the histories of its host city. Most effective in this respect is Control Club, a monumental audio sculpture in the style of a Chinese religious temple that plays an endless 360-degree soundtrack of Beethoven and muted riot noise. The work is particularly well-situated to encourage a comparative reading against the drama occurring on the nearby ruins of a Roman theatre, a popular lunchtime spot for students with the sense to pack their own sandwiches.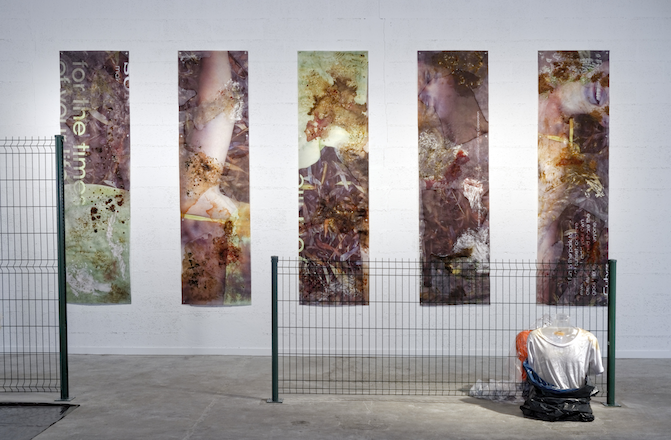 It is at La Sucrière, however, that the the bulk of 12th Lyon Biennale is on display. In this vast, renovated sugar warehouse, Dan Colen's silhouette wall cuts rampage through the referential wastelands of Roger Rabbit, Wile E. Coyote and the Kool-Aid Man—Livin and Dyin (2013)—, while Ian Cheng's video installation Entropy Wrangler (2013) presents an endless series of randomized and mutating collisions between digital avatars, ranging from ageing celebrity athletes through to dolphins and dinosaurs. These works sit noisily alongside quieter and more structural works by artists including Paul Chan and Laida Lertxundi, whose The Room Called Heaven (2012) offered a tender road movie composed of intermediate cinematic fragments anticipating actions that never come. On the mezzanine floor of the same building, works are organized as a number of walk-through environments; from Neïl Beloufa's crudely utopian projection assemblages (Superlatives and Resolution, 2013), through Ed Fornieles' lumpen world of online sitcom-turned-sculpture (Maybe New Friends (Britney Rivers), 2013) , to Karl Haendel's large screens of layered drawings that delineate the story of the 2012 "Joker" killing in Colarado that famously took place during a screening of Batman: The Dark Knight Rises (People Who Don't Know They're Dead, 2013). Perhaps the best works at La Sucrière went even further to push the narrative theatre of spectatorship itself. Anicka Yi's Sous Vide (Sucking All The Sensations) (2013), a blank, bathroom-tiled environment with piss-coloured liquid emitting from three holes at its exterior, was one such example. Laure Prouvost's dramatical installation works Before Before (2011) and After After (2013), were others. Prouvost's animation of common objects in a story of a search for a woman turns spectatorship into a partial and non-exclusive practice of comprehending a post-human world.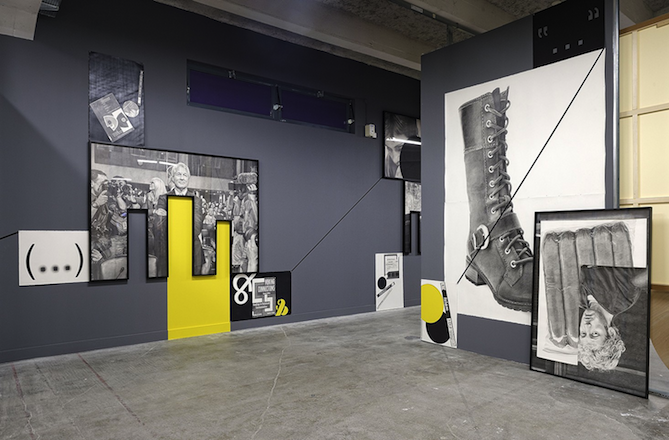 In the Lyon Museum of Contemporary Art, the presentation of works is, predictably, designed in the manner of the museum, with spaces allocated to a single artist within a network of small galleries. What this presentation loses in terms of connecting certain works with others, it gained in some coherence of the overall project. After all, in an exhibition that focuses on narrative, perhaps a certain amount of literalness makes sense. Hannah Weinberger's audio installation Every other year (2013) is the first work encountered, and in many ways is the first work, full stop. With its simple installation of speakers that divide the room and an infectious composition of electronic beats, Every other year is like a soundtrack to a good time that no one is quite sure they are having. Or not yet, anyway. It generously predicates everything that could possibly follow in a fantasy of new beginnings and memories to come. Other highlights at MAC Lyon include Jason Dodge's minimal installation of cushions slept on by doctors, children, and knife makers at the artist's request (The doctors are sleeping, Dr. med. Jürgen W. Bauer, Dr. med. Axel Jung, 2010; The children are sleeping, 2013; The knife maker is sleeping, 2013); James Richards' liquiditous video Not blacking out, Just turning the lights off (2011); and David Douard's installation 4NIMORPH5 (2013) that adapts its materials from a series of popular children's science fiction tales. Together with Ann Lislegaard's mesmerizing three-projections installation, Oracles, Owls – Some Animals Never Sleep (2013), these works push harder at the edges of the narrative thematic of the 12th Lyon Biennale than Gunnar B. Kvaran ever really claimed. As suggested by the android owl in Blade Runner that Lislegaard digitally re-animates for her own work (complete with the fractured speech of film dialogue and digital bleets): the question of how narrativity becomes an agent beyond human controls of articulation and substance could well be a vital question of our age.
If "Meanwhile… Suddenly, And Then" is an exhibition "written in the first person singular," as Kvaran describes in his accompanying catalogue essay, then it is perhaps ironically those works that eclipsed such a singular approach that provided the 12th Lyon Biennale its real strengths.
The 12th Lyon Biennale will run through January 5.