topPRACTICE MAKES PERFECT
by Catherine Wood
Combining a cubist approach to space with an innate impulse toward movement, dance anarchist MICHAEL CLARK choreographs the blurring of art and life, translating rigorous daily practice into sequences of extraordinary emotional intensity.
come, been and gone, Simon Williams, 2009
Photo: Jake Walters
In a square of white light projected onto the floor, a male dancer knots his body into angular shapes: arms rigid, fists clenched, and head to one side. He curves forward through his back to assume what looks like a stretching position, holding his legs beneath bent knees, but pauses only for a split second before rolling again, one crooked leg pressing to the floor against the direction of his torso. Set within the opening moments of Michael Clark's project for Tate Modern, part I (2010), the continuous unfolding of movement in this sequence makes it hard to quantify its compositional elements as discrete units. Each movement is exquisitely unpredictable, truncating our expectations for the movement phrase that it begins. There is a cubist quality to the dancer's striving to fully inhabit the space marked out by the flat white square on the floor, pressing his body's surfaces to the ground, at times into near impossible contortions. But to think only of analytic cubism's geometries detracts from the work's extraordinary emotional intensity. The choreographed exposure of the dancer's body—set to the charged strains of David Bowie's Sweet Thing—is almost painful in its intimation of psychological restlessness, as though the dance is a search, without apparent end, for a still place to be.
Read more
topThe Territory of Versions
by Carson Chan
Pointing towards the digital condition as a source of renewal and mutability, OLIVER LARIC's hyperlinked representational inquiries explore disembodied agency, Net-born avatars, and parallel worlds— channeling the Internet's inexplicable uncanny.
Icon (Utrecht), details, 2009
Courtesy: the artist and Seventeen, London
While movable type, radio, television, and telephones have successively changed the way we communicate, it was only when Tim Berners-Lee wrote the code for the World Wide Web on Christmas Day 20 years ago that the linearity of thought that has characterized Western culture was challenged by the world view of the Internet. Today, the web accounts for almost half of our waking attention. We search through its data, click on its hyperlinks, skim its texts, download, upload, email, and Tweet. In The Shallows (2010), technology writer Nicholas Carr argues that Internet use is eclipsing our ability to think deeply and creatively. "The Net seizes our attention only to scatter it," he warns, adding that the environment of distraction cultivated online inhibits learning. "We become mindless consumers of data." Given this trajectory, Carr implies, we may one day do away with long narrative structures that string and weave ideas inefficiently for the near instantaneous apprehension afforded by RSS feeds and text-messages.
Read more
topNo Success Like Failure
by Luca Cerizza
Serving both as a film set and a workshop, the studio of artist MATEO TANNATT is the scene of a practice that holds the theatrical representation of the body at its heart, in the best tradition of Los Angeles's "pathetic art."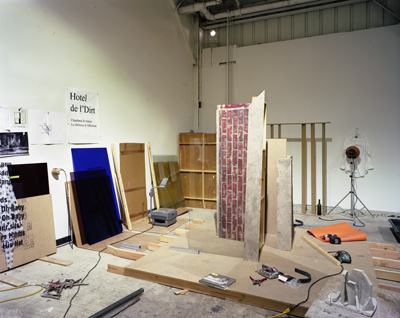 All photos: Marina Pinsky
The name smacks of myth and antiquity, of battles and work. Minerva was the Roman goddess of war and the crafts. Minerva Street is one of the main roads in the district of Vernon, Los Angeles. South of downtown and west of Culver City, an area in which a large number of the city's galleries are concentrated, Vernon is a sort of no man's land devoted to the collection, recycling, and processing of various materials, such as scrap iron and paper. A wholly industrial district, Vernon is made up of a sequence of sheds and nondescript low buildings. Some of these are occasionally converted into studios for filming movies. Next to a building where a spectacular amount of paper and cardboard is collected, and another where rows of Hispanic workers cut cloth and stitch clothes under a cold neon light, you may come across the remains of a movie set that has reached the end of its brief existence. Illusion sent for scrap.
#readmore#
Mateo Tannatt, born in 1979 to a Mexican mother and an American father of Dutch origin, was raised in Los Angeles but studied at the Cooper Union in New York before returning to California in 2001. Over a year ago, he moved his studio here, into one of Minerva Street's biggest industrial sheds, each of which is marked with a large black number on its beige front. More or less the height of glamour that can be attained in these parts.
According to Tannatt, in addition to satisfying a series of production demands (the availability of materials, the means of processing them, and low-cost labor), this area exercises a constant influence on his practice. Elements and traits of Tannat's work, such as the use of steel in some works (underlining an ironic attitude toward the language of minimalism), the grotesque and gloomy contrast between the space of the film set and the body that occupies it, and the relationship between working activity and creative activity run in parallel to the life that goes on just outside his studio.
But there's more to the picture than meets the eye, as good old Neil Young, a Californian by adoption, put it in one of his songs. Tannatt's work, in the eyes of someone who, like me, has always viewed Los Angeles through the distorted prism of films, television, music and art, looks like a stimulating coagulation, perhaps because his practice is still in the process of defining itself and digesting the many visions that have been laid down in this place, which is so alien and so familiar at one and the same time. I find in it a note of that "pathetic art" of which Ralph Rugoff wrote in the early 1990s with regard to artists who were based here, like Mike Kelley, Raymond Pettibon, and Jim Shaw, but which has an even older origin: from the slapstick tumbles of Bas Jan Ader, pervaded by an irrepressible romanticism, to the dry humor of John Baldessari and the bloody grotesquerie of Paul McCarthy—all sensibilities that were formed around here and surface again today in more than one young artist working in Los Angeles, as if these tendencies were something deeply embedded in the place's DNA. These artists use the body as if it had been stripped of its intellectual faculties and limited in its motor capacities, reduced to the state of an inanimate and unstable marionette. This theatrical and pathetic representation of the body appears in some of Tannatt's installations, where dummies emerge from precarious and synthetic stage sets. At times, bodies are represented by details—a top hat, a walking stick—like the remains of a performance that has ended. In this key, Mateo described ideas for a work he is developing in which men and women in overalls will carry out stylized movements that will be used as the basis for a digital animation.
The bittersweet contrast between expectations and disappointments, which perhaps inevitably comes out in the capital of entertainment and make-believe, can be discerned in some of the other works that I see stacked in a corner of the studio. On some canvases, a musical stave drawn by the artist contrasts with the absolute banality and repetitiveness of the words that accompany it ("Oh! Oh! Yeah! Yeah!"), like lyrics to a tune of no account. Along the same stave with its skipping progress passes a pitiless admission of failure: "My mouth can make sounds but these sounds are not words," as if speaking, once again, of a body reduced to its primary functions and victim of a general incapacity.
As with music, Tannatt uses the language of the comic strip at its zero degree when he obsessively repeats the motif of a cartoon door handle on a canvas or a keyhole on a sheet of steel. In other works, he uses the vocabulary of geometry when he lines up or superimposes triangles, squares, and circles in basic colors on a piece of unprimed linen. I can discern a hint of Richard Prince in these forms of comedy expressed through clenched teeth, and in these forms of paradoxical pictorial minimalism, something of the anti-rhetoric about the historical avant-gardes that circulates in much of the art around here.
Tannatt doesn't just dig into the more or less recent memories of Los Angeles culture, but into his personal memories as well. In the planning of Animal House, a work for his next solo exhibition at the Hammer Museum of Los Angeles in January, the artist has included a reference to the school he went to as a small child. The Seeds University Elementary School, part of the UCLA, is an experimental school, some of whose buildings were designed by Richard Neutra, the modernist architect of Austrian origin who helped shaped the parameters of the International Style in Los Angeles, especially in a number of his iconic private homes. In Tannatt's work, the utopian impulses of Neutra's architecture are mixed up with stage sets for TV shows and advertisements and what he described as a "stage for human and animal activities."
This clamor of thoughts and suggestions, these shifts between different memories and materials, have as their theater the large industrial space that the artist occupies on Minerva Street, where Tannatt's many ideas and voracious curiosity cohabit in its dynamic chaos. The artist has devoted more than one work to the studio—indeed, an entire exhibition. His first solo show at Marc Foxx Gallery in Los Angeles in 2008 was titled "Mahagonny Station: Plein Air" (in reference to Brecht's collaboration with Kurt Weill and Caspar Neher, a production that modeled the independence of language, music, and set design), and put forth the idea of the studio as the theater of a continual struggle between ideas and forms, between expectations and results. The words "studio agony" stood out in a work on paper also included in the exhibition that seemed to function as a manifesto of the travails that accompany the creative process. In another work, a glass-and-steel structure supported a blue workman's bucket, while a text written on glass alluded to the daily dynamics of work and pleasure. The studio was also the protagonist of a video (entitled Studio Agony, 2008) originally shown at a horse ranch in the Hollywood Hills. But the real ranch was the artist's studio, transformed for the occasion into a stock farm. Horses, sheep, goats, and a lama were filmed while they ate the straw scattered over the floor, indifferent to their temporary entry into the world of entertainment.
Tannatt knows that failure is no success, but tried to turn it into one: in his first exhibition, he debunked any fetishism linked to the mythology of creativity and played on the expectations associated with the first solo exhibition of a young artist in a commercial gallery, suggesting the idea of the studio as a place of questioning and research rather than production. The scene of a tension between the artist's imagination and the necessities of production, Tannatt's studio is—or at least as it appeared to me on that gray October day—a workshop continually engaged in a quest for some meaning on the great stage of the Absurd.

Thanks to Sonia Campagnola and Alessandro Pessoli.
—LUCA CERIZZA is the Berlin editor of Kaleidoscope. A curator, writer and art historian currently based in Berlin, he is a regular contributor to Frieze. He teaches at NABA Academy in Milan and is curator of BSI Art Collection. His book, Alighiero e Boetti: Mappa, has been published by Afterall (London, 2008) and Electa (Milan, 2009). Et al. Edizioni has just published L'uccello e la piuma: La questione della leggerezza nell'arte italiana(The Bird and the Feather: The Question of Lightness in Contemporary Italian Art).