ARCHIVE
PRADA
Nicholas Cullinan and
Francesco Vezzoli in conversation
NICHOLAS CULLINAN    The first question is long and usually horrifies people when I wonder it aloud. I think the art world is a lot more like the fashion world than it wants to admit. The art world and indeed museum collections are predicated on the principle that artworks are important, timeless and permanent, yet many curators are constantly on the lookout for the next hot young artist and are happy to jettison other artists to make room for them. It is fascinating how fashion designers have to create a distinct, recognizable brand and then reinvent it every season in order to stay current and survive. Couldn't this be an emancipatory model for artists who want to outsmart the cynicism of the art world?
FRANCESCO VEZZOLI    The art world has officially become an art industry, just like the film or music business. It's sad, maybe, unpredictably depressing and surprising, but that's the way it is.
Very often these industries do share the same public relations structures to promote their different products. Increasingly often, the final goal is to see their products promoted in the very same glamorous magazines.
The art world these days feels just like Hollywood: youth is the most valuable currency and there is a brand new red carpeted art fair ready to open near to you. Personally, I don't think there can be any way back from here, and fashion designers or movie directors are just like artists, but there is less pretentiousness and intellectual pressure on their shoulders. I envy them for that: their system is more intellectually honest than ours.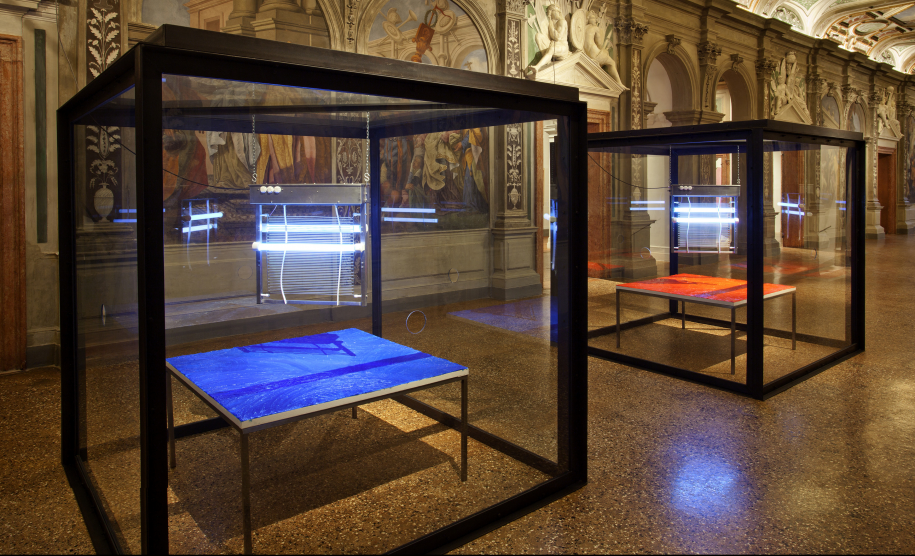 NC    Bronzino had the Medicis; Jackson Pollock had Peggy Guggenheim (or maybe it was the other way around); and you have Miuccia Prada. Is this a fair lineage?
FV    Let's just forget about Peggy and the Medicis… In my dreams, I am Loulou de la Falaise and Mrs. Prada is my Yves Saint Laurent…
NC    Let's talk about the Fondazione Prada's project at Ca' Corner della Regina in Venice this year, which we were both involved with. As you know, I was asked to curate the postwar Italian works in the collection of the Fondazione Prada, including pieces by Burri, Fontana and Manzoni. I also included less well-known figures outside of Italy, such as Salvatore Scarpitta and Mario Schifano, both of whom are, I think, great artists deserving of international recognition, and installed their works in the very particular spaces of a Venetian palazzo. I thought it was interesting to see an Italian fashion house and foundation allow postwar Italian art to take center stage during the Venice Biennale and still be effortlessly international. It reminded me that, in a way, Italian fashion has never had to overcome the same stigma of being marginalized or perceived as being parochial, in the way that postwar Italian art has. In Venice, it felt like the prestige of Italian fashion was coming to the rescue of Italian art. How did your room in Ca' Corner della Regina, with its queer Giulio Paolini centerpiece, come about?
FV    With the display of such a huge and important collection in such a historical venue, Fondazione Prada compelled all the artists directly involved with the installation of their own work to be in some kind of dialogue with the glory of the past.
I attempted to recreate, in a parodic way, the atmosphere of a classical museum, like Galleria Borghese in Rome. When you visit the Venice Biennale, you walk down the Grand Canal and you realize that all these ancient magnificent palazzos become the most absurdly expensive shopping windows for contemporary art. It's amazing, but you immediately think: how can today's art compare to such splendor and prestige, and how can I make the oxymoron more evident?
I thought it would have been a perfect occasion to use history against history, put the past and my own reinterpretation of it in an ironic counterpoint and try to save myself from a miserable comparison.
That's why I used an original Apollo del Belvedere replica from the eighteenth century, and I put against it a self-portrait: my own self trying to kiss the Apollo.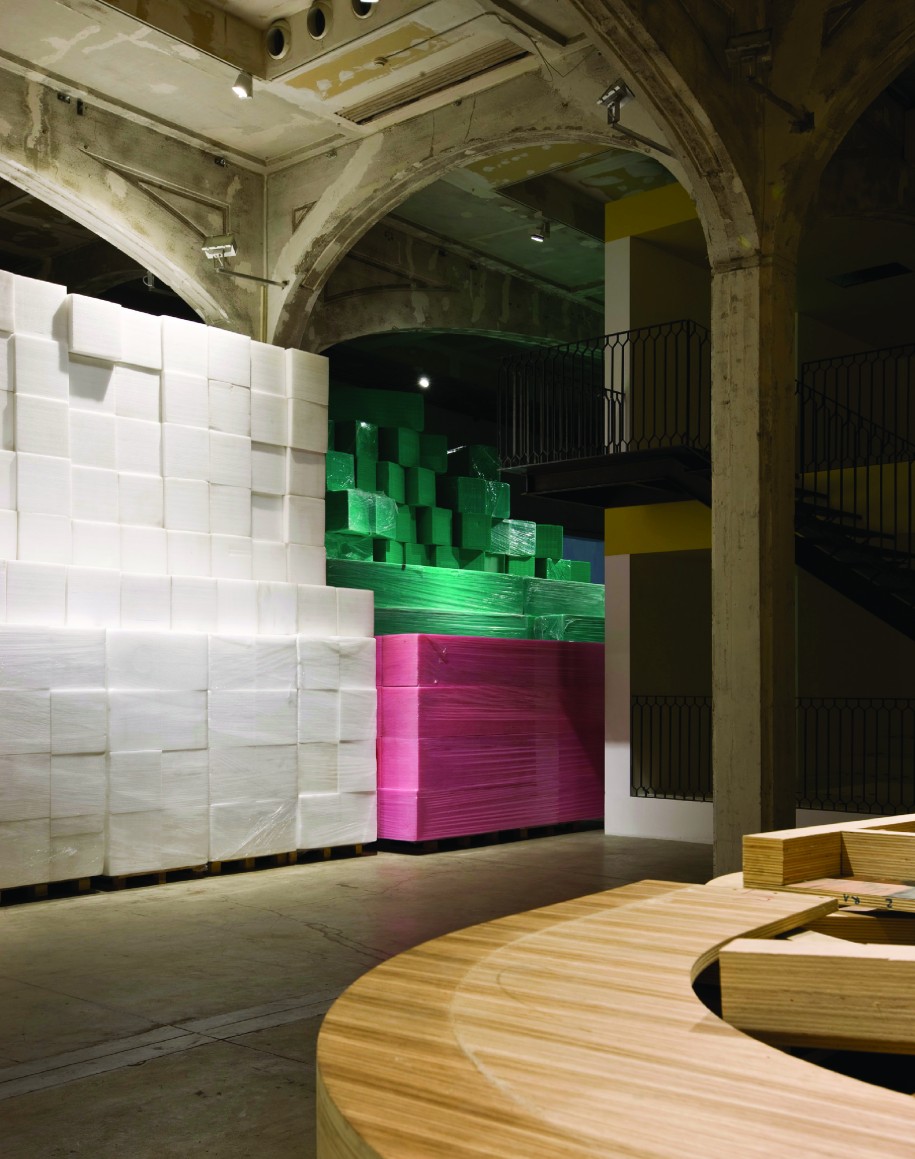 NC    In 2013, the Museo Prada in Milan will open an ambitious and experimental series of buildings designed and converted by Rem Koolhaas and OMA. What impact do you think this project will have locally (in Milan), nationally and internationally? Do you think this is part of a pattern in Italy of private patronage being compelled to fill the void in public arts sponsorship? For example, despite the recent proliferation of contemporary art museums in Italy, such as MAXXI, MACRO and MADRE (and any other acronym beginning with "m" that you can think of ), it seems they are almost outdone in terms of activity, visibility and innovative commissioning by fashion foundations such as Prada and Trussardi.
FV    After a meditative look at the art collection he had built over the years, Gianni Agnelli asked himself, "Is this my collection or does it belong to an old Park Avenue lady?" Ironic, witty and wise as he seemed to be, he was very aware of the light, elegant weight of his collection, compared to those collections that, after the war, had been the driving forces behind museums like the Met or MoMA or the Whitney.
Palazzo Grassi itself, after the Agnelli's reign, is now much more focused on contemporary art, but that's thanks to a French philantropist called François Pinault… In the last seventy years, Italy has rarely seen a family that pursued, supported and sponsored contemporary art and culture like the Prada family.
Berlusconi very unfortunately never even tried to compete. Unwittingly, he made an interesting contribution to the cultural debate by airing in Italy the first U.S. and South-American soap operas, but he never intended to produce any real cultural project, and he was never able to resurrect our moribund film industry.
At the moment, my country desperately needs a brand that can enrich the economy, and be both a source of national pride and a cultural entity.
Prada seems to be one of the few realistic hopes around these days. The museum will become the cultural heart of Milan. It will be groundbreaking. Success and an international impact will follow naturally.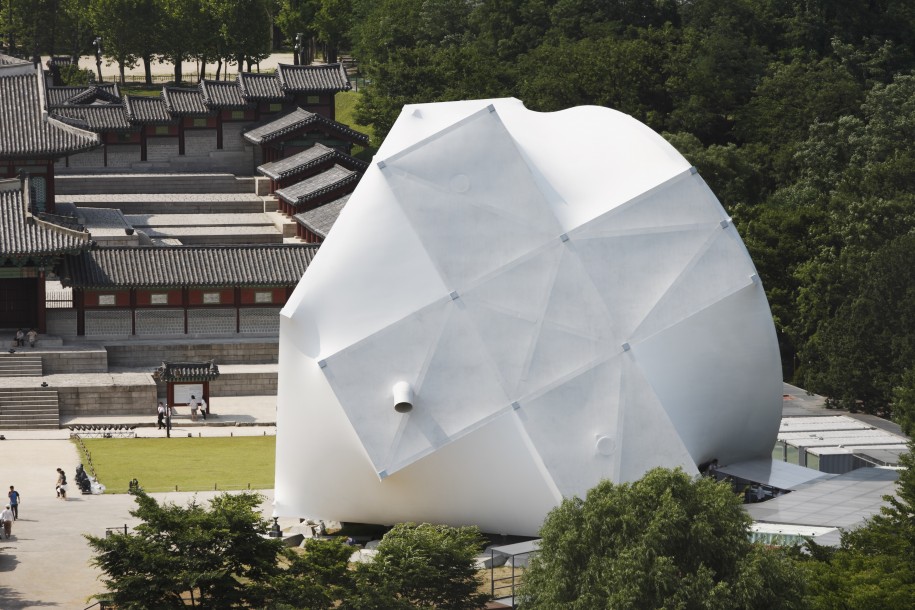 NC    Looking back at the Fondazione Prada's program, what do you think is the relationship between art and fashion that these examples advance? I am thinking here of projects such as Rotor's exhibition "Ex Limbo," where the structure of a catwalk was used as raw material for their intervention, and John Welsey's solo exhibition and its relation to the brand's fascination with a certain type of pop imagery, as in the Men's S/S 2012 collection. Are these examples of symbiosis? Is art leading fashion or vice versa?
FV    If an artist living today is even remotely aware of the driving forces behind the media and other industries, they must quickly admit that fashion is one of the most fascinating and inspiring universes.
Most of the artists I know would be happy to do anything for Prada, as much as I know for sure that Mrs. Prada would love to discuss with them and learn more about the nature and goals of their work. Rather than symbiosis, I would call it an inevitable osmosis…
NC    So contemporary art is becoming more fashionable (which certainly seems to be true if you look at exhibition and museum attendance figures), or perhaps fashion is savvier to the "radical chic" provided by the proximity to contemporary art. Your exhibition "Trilogia della Morte" was the first in a long series of collaborations that have made you a sort of front man for the company. Could you tell me a little more about your involvement in this conversation between art and fashion?
FV    I am a peculiar case, because I loved Prada, and fashion in general, ages before having the good fortune of working for Prada or meeting Mrs. Prada herself. My work proves this point very easily. Especially in the early projects, my obsession with glamour is pretty obvious.
However, for a long time the Prada brand has been quite focused on avoiding predictable glamour. Therefore, consciously or unconsciously, I tried to do the most unglamourous project I could ever conceive: a recreation of a dating game straight out of trashy daytime television.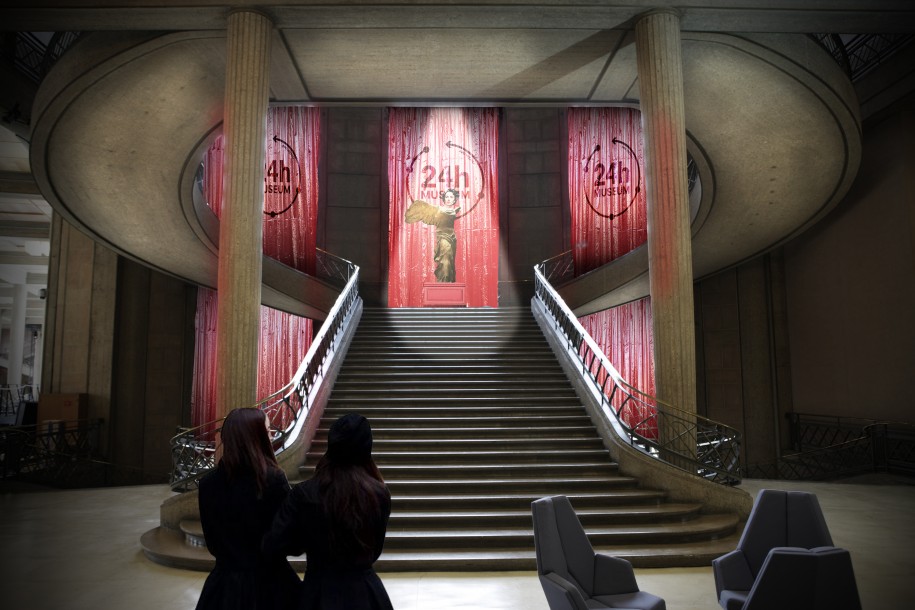 NC    It is also interesting how both the projects of the Fondazione Prada and Prada proper (as in the brand) are becoming increasingly international, such as the video clip directed by Yang Fudong for the Prada S/S 2010 campaign, the Prada Transformer designed by Rem Koolhaas and OMA in Seoul, and Carsten Holler's Double Club in London. Do these reflect an era of globalization, in which brands must migrate or die?
FV    I think it's really fundamental for any kind of brand to be firmly grounded in the country where its roots are. That said, in order to exist and survive internationally, the brand must challenge its own creativity and strengths with different cultures. It's the best way to start anew, explore new possibilities and constantly confront the new powers and ideas coming from different territories.
NC    What do you think Prada's vision of contemporary art is? What will be the effect of the form of art patronage that Prada is promoting?
FV    Just like Prada fashion has been inspiring people to be more daring with their body language, I expect Prada's approach to art will also force people to be more open minded and courageous about the language of their hearts and souls…
NC    Could you tell me more about the project you are working on for the Palais d'Iéna in Paris?

FV    With the help of Rem Koolhaas and OMA/ AMO, we are planning to transform the Palais d'Iéna into a 24-hour museum fully devoted to the celebration of my art: a self-parodying fake retrospective/introspective. It will be like a social event turned into an artistic performance, involving many different fields.
The space will be staged like a true museum-style exhibition and set up for an opening VIP dinner and subsequent party. The day after, it will become the set for a press conference and, in the late afternoon, an official public opening will take place.
The dinner will start around 9pm on the 24th of January, and the public opening will last from 6 to 9pm on the following day. Then everything will disappear, dismantled during the night, and the Palais d'Iéna will go back to its official public and political functions, as if nothing ever happened.
The main reference for the whole project are those baroque parties where artists conceived the sets, the art and the entertainment. We are just doing an ironic and contemporary version of it.
At this moment in history, Prada has just opened its own museum in Venice and will open another very ambitious one in Milan in a few years; Mrs. Prada's work will soon be the subject of a Metropolitan Museum retrospective; and Rem Koolhaas is having his retrospective at the Barbican. So I thought it was the right occasion to play with the notion of the museumification of a brand and the celebration of someone's oeuvre.