ARCHIVE
HEIMO ZOBERNIG
interview by Beatrix Ruf
BEATRIX RUF     At Simon Lee Gallery in London you are currently showing a group of paintings inspired by the recent "revival" of the first museum retrospective of Picasso's work at Kunsthaus Zürich, which was mounted last year at the same time as your show at Kunsthalle Zürich. As you know, the original retrospective was held in 1932 at the Kunsthaus, and it provided a scandal for the art world and was followed and commented on by the press in great detail. Picasso put the exhibition together himself, selecting more than 200 works without a curator and installing them in the museum's collection rooms, which had been emptied out completely. The homage to the 1932 exhibition and the review of its reception included more than 70 works by Picasso. What interested you about the exhibition? What moved you to reference these works in your art?
HEIMO ZOBERNIG     I liked everything about the show. I have always been an enthusiastic museum visitor and have spent a lot of time in picture galleries, as I find much inspiration there. Up until this time I had never really had any particular interest in Picasso, but this exhibition surprisingly offered me a new perspective. Especially important was when I saw and retraced how the artist himself hung the pictures, reflecting the development of his work in strict chronological order. I also discovered paintings that I hadn't known. I was fascinated above all by works from the late 1920s. Some are like playful anecdotes about abstraction and figuration. The provocative effect that they must have had back then can still be felt today. The joy and lightness that comes through in the works captivated me. For many years I have been working with monochromes and screens, and then some time ago the stretched line got torn and twisted into free forms in front of and behind the screen. When you look at the forms you can't help but see figures. What is allowed and what is to be avoided is always the question. With this personal development, and with the delight in drawing lines that I discovered in Picasso's pictures, I went to work in my studio and tried to see what could be done. One thing led to another — and the work is still going on.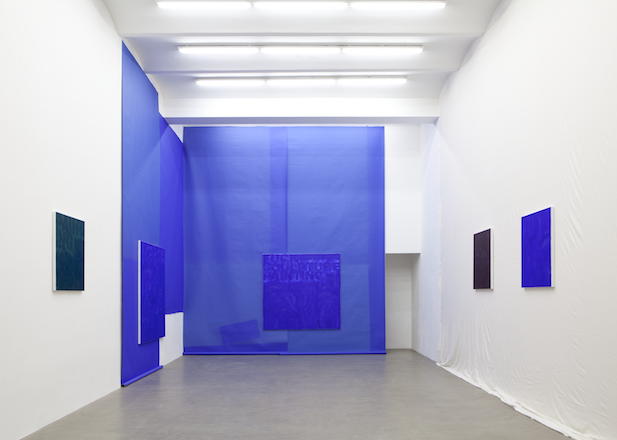 BR     Your works offer a great variety of approaches: from great precision and the zooming in on details to complex compositions that combine color fields, iconographic inner structures and extended pictorial phenomena from the modern history of painting.
HZ     Initially I painted wildly, in all imaginable styles, but later on I settled on radical geometric abstraction as my preferred technique. My sources back then often had nothing to do with art, which led to clear deviations from convention. Only gradually did I come to the monochrome, and from that point onward certain sources became apparent. In all the new techniques of young artists this astonishment with phenomenological painting is evident. In monochromes the ghosts and demons of the resistance movement emerge. The attempt at noncompliance, the continual failure to achieve the goal, is inscribed in the monochrome. No monochrome or empty picture that doesn't reveal the traces of its own creation can continually deliver a historical statement. In Madrid I've now put together a series of white-andblack pictures that have been emptied out. I'm excited to see what the result will be looking back.
BR     You say that your sources and references often have nothing to do with art. What goes into your work then?
HZ     Well, I said that off the cuff, of course. I meant observations and models from nature, science — those kinds of things. It can be diagrams or different reconstructions of an architectural nature. Sometimes this includes things that we don't consider art, but instead what stands behind or next to it. Sociology and politics are, in the end, also problems of form.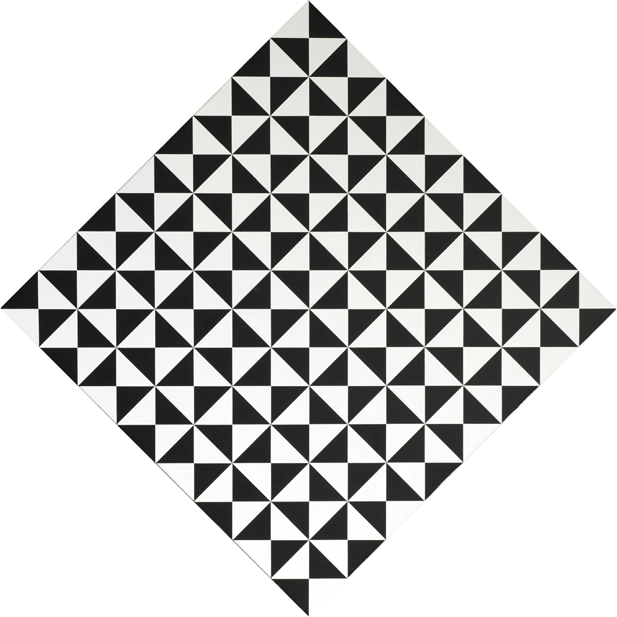 BR     Your work is often associated with the terms "Neo-Geo" and "contextual art." How do you feel about these terms and their attempt to capture categories and movements? Who do you think belongs to such groups?
HZ     My first exhibition worthy of mention was my inclusion in a group show in the early 1980s at Galerie nächst St. Stephan. The title was "Zeichen, Fluten, Signale: neukonstruktiv und parallel" (Signs, Tides, Symbols: New Constructive and Parallel), and the artists Helmut Federle and John Armleder, who in their approaches stood at opposite sides of the spectrum, were primarily responsible for the selection of the works. The attempt was made to make a statement with the label Neo-Geo. After Neue Wilde had dominated the painting of the early 1980s, this exhibition was the first concentrated presentation of contemporary "non-Wilde" works in Vienna. Above all, it brought together pictogramic, figurative works that examined the potential connotations of signs in the field of tension between the sublime and banal, emotionality and distance, representation and abstraction. The participating artists were Federle and Armleder, as well as Ecke Bonk, Brigitte Kowanz and Franz Graf, Imi Knoebel, Peter Kogler, Matt Mullican, Heinrich Pichler, Gerwald Rockenschaub, Romana Scheffknecht and Dieter Teusch. Those are some of the names that came together there. Each then went on in his or her own individual direction. After that I exhibited at the Galerie Peter Pakesch. That's where I met Sol LeWitt, Pier Paolo Calzolari, Albert Oehlen, Martin Kippenberger, Günter Förg, Mariella Simoni, Herbert Brandl, Otto Zitko and Beatrix Sunkovsky, and that seems to be the right environment for me.
BR     Do you see any connection at all to socalled "appropriation art," which with artists like Sturtevant or General Idea found a significant formulation in the 1960s—though they themselves categorically rejected this term?
HZ     I don't think that this term really applies to the way that I work. I don't just take things and use them, I reinterpret them and insert them into new contexts. Things are transformed or alienated. It's not about co-opted readymades. What I do is better described by the word "paraphrase." This applies as much to the things I directly create as it does to the works based on models, as it's a classic technique.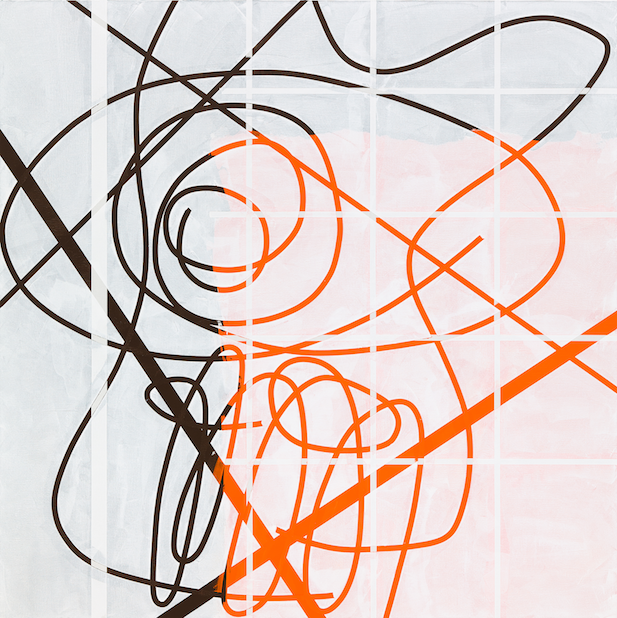 BR     What does "appropriation" mean for you now?
HZ     Like I say, that's not my method and I don't think it's an accurate description anymore of a young generation that uses the World Wide Web. I follow developments with some curiosity, but I have the impression that the correct terminology hasn't emerged yet. "Copy" and "sample" aren't right anymore either.
BR     Yes, I have always thought that the label "appropriation" was too onedimensional. Sturtevant's or General Idea's early exploration of the subjects of difference, repetition and questioning of authorship in the face of new digital reproduction and the indistinguishability of the original and the copy are quite distinct from the use of media materials by the Picture Generation starting in the 1970s; the appropriative methods of Richard Prince in the 1980s that deny authorship; the repetitions of Sherrie Levine; and the use of digital and analogue models of the first generation for which the Internet was an everyday phenomenon — Wade Guyton, Seth Price, Kelley Walker and Josh Smith, among them, though one could add many more names to that list. The newer generation, for whom the Internet is no longer a technical element but almost a full-fledged part of reality in a different aggregate phase, work very differently with pre-existing images and material, as well as with styles and historical continuities. I often speak with Helen Marten, whose work is currently being exhibited at Kunsthalle Zürich, about the difference between collage and inlay, about surface and the differentiations that define surfaces. This also applies to historical linearities and chronologies, which now portray repetition, appropriation and reenactment quite differently, and perhaps make them obsolete.
HZ     The enthusiasm for new media in the 1960s led to a repetition of artistic forms and descriptions of methods that then slowly lost their usefulness. Painting was declared dead. It's now regaining its status. But the break seems to have done it some good. The strained discussion coming out of New York in the 1950s has come to an end. Such basic approaches as pictorial, photographic, sculptural or cinematic don't limit the medium; they provide an indication of an artistic approach. The term "new media," on the other hand, has long since been declared obsolete and I don't think it will come back again. Authorship will always become evident, despite the dissolution of artists. I believe that the idea taken from psychology that thoughts are created of their own volition is still quite true. For example, Guyton uses a printer, a machine used as a tool for reproduction, like a paintbrush. Or Michael Krebber takes a brush, begins to make a gesture and then abruptly stops because his uncertainty about the return prevent him from continuing. A new form is created in the process. Sarah Morris's screen is well known, but it gives rise to new interpretations all the time.
BR     What kind of future development do you see? What artistic approaches do you find interesting in this context?
HZ     I have no idea how things will develop. I can only say something about some of the comments I've made: that such completely different artists as Merlin Carpenter, Florian Pumhösl, Esther Stocker, Martin Erik Andersen, Lone Haugaard Madsen and Lucie Stahl have all set out in a profound search for forms using their academic and intellectual training, and with familiar artistic methods. I believe that such approaches are influential for an even younger generation. The Internet is perhaps somewhat overrated as a source for speculation.
BR     But do you have a new term for what repetition stands for today or what it will become in the future?
HZ     Well, some time ago the term "informalism" occurred to me: it is a kind of word play and combines contradictory phenomena. I don't think I need to say anything else about it. In any case, it only works if the term becomes loaded with meaning by different sources.
BR     What have you been working on since the Picasso exhibition?
HZ     My retrospective exhibition in the Palacio de Velázquez of the Museo Nacional Centro de Arte Reina Sofía in Madrid. It features a series that is paradigmatic for me as a further attempt to bring the works together — partly as a new formulation — to create an exhibition as an exhibition and in this way to show the potential genesis of my painting. The thing with Picasso will occupy me for some time. A lot is still open there.